promo best little cabin 2016 from rob cross on Vimeo.
Looking for a quiet, private, peaceful hideaway for the weekend or longer? You will love The Best Little Cabin in Texas, hidden on 300+ acres in the middle of the beautiful Lost Pines of Texas between Smithville and Bastrop, only one hour from Austin.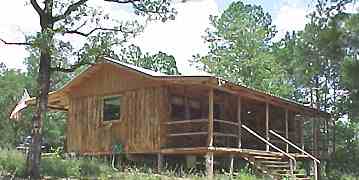 Our cabin, located on the highest point in the county, was completed in January of 2000 and offers its guests a memorable nature experience with plenty of native and migratory birds, an occasional deer and possibly a wild turkey, fox or even a bobcat. You will delight to the nightly, eerie yapping of the coyotes and the supurb star gazing because of no city lights.



A walk through the woods

Guests love going for a walk in the woods at our cabin. We have 300+ acres which offer you plenty of space and privacy. The cabin is on property that has been in the same family since the early 1800s and our guests are encouraged to walk, ride (bring your bike) and enjoy the serenity of the area at their leisure. You are encouraged to bring a cell phone as there is no phone on the premises.

The Best Little Cabin in Texas has two bedrooms, a double bed in the Madam's room and a queen in the second bedroom. The cabin has two bathrooms. There is a sleeper sofa in the living room to accommodate two more people. Central air conditioning and heating keep the cabin comfortable in any climate.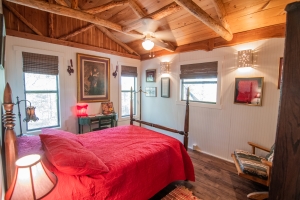 Miss Edna's four poster bed
Our name for the cabin, "The Best Little Cabin in Texas", comes from the Broadway play and movie with a similar name which was inspired by the famous and historic LaGrange's Chicken Ranch. The four poster bed shown above was the bed of the last madam of the Chicken Ranch, Miss Edna. The master bedroom is appropriately decorated in a way that honors the memory of the Chicken Ranch and its inhabitants. (Be sure to check out the license in the bathroom!)


The bathrooms

The owners of the cabin, Terry and Dianne James, are antique dealers and have decorated the cabin with a great collection of antiques, some of which are priced for sale.

The second bedroom, known as "Ode to the Toad", pays humorous homage to our beloved local Endangered Species, the Houston Toad. This toad, about the size of a silver dollar, mates during the late spring and makes one heck of a mating call. May their numbers increase.



the living room

You will find the construction of our cabin comfortable, attractive and interesting. The cabin's interior walls are of cedar. The exposed pine rafters add an extra charm to the interior. In the photo above, the front and back doors were left open to enjoy the gentle breeze that blows through the cabin.


The kitchen

The kitchen is fully equipped with paper products, salt, pepper, sugar, coffee ( bring your own if you have a favorite), all utensils, dishes, pots and pans, dishwasher, microwave, blender, etc. , as well as an outdoor grill. Guests need only bring what they intend to eat and drink. The counter has five stools, and a dining table with chairs provides plenty of seating while eating. TV with cable in living room.

You will want to spend a lot of time on our comfortable full length deck along the back of the cabin. Through the giant pine trees you will be able to look over the Colorado River Valley to Smithville and beyond. Relax on the deck to enjoy the gentle breezes and the sounds of nature at its finest. Have you ever taken a nap in a hammock? Take a nap in our hammock and ponder what lies over life's next hill. You will love it!

You might get a glimpse of the Black-Bellied Whistling Ducks that are nesting somewhere nearby. These birds are quite rare for this area. The beautiful Painted Bunting is only one of many birds residing in our woods.



View from the back deck


Things to do in the area:

Bicycling through Buescher and Bastrop State Park or Rocky Hill Bicycle Ranch
Golfing at three Local Golf Courses
Bird Watching - 250 species of birds have been documented at the State Parks
Walking/Biking Tour of Historic Homes in Smithville and Bastrop - See fine examples of Victorian, Queen Anne, Classical Revival and Greek Revival.
Touring the Opera House in Bastrop and seeing a theatrical production or concert
Shopping at Smithville and Bastrop - Antiques, Gifts, Souvenirs, Clothing, Crafts, Books, Jewelry, etc.
Touring the Railroad Museum and Museum of Automobile History in Smithville
Touring the Bastrop County Historical Museum in Bastrop
See where the movies "Hope Floats" and "Tree of Life" were filmed in Smithville
Go to the Front Room Wine Bar, Honey's Pizza and Amy's Ice cream, all in downtown Smithville
Dining at the local restaurants in Smithville and Bastrop
Fishing in Lake Bastrop
Take a nature walk through the woods near the cabin or in the parks
Hiking along the trails on the property
Visit the Hyatt Lost Pines Resort and Spa for dinner, golf and their canoe/kayak operation on the Colorado River.
Visting with the 8 registered miniature donkeys in residence (and for sale)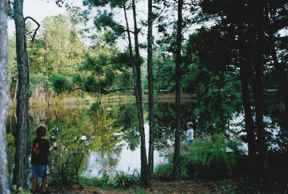 Comments from some of our guests:

WOW! What a beautiful, awesome, & warm place you have. The comfort of home - then 5 steps out and all the wonder of nature. The ducks, squirrels, a deer, turtle, wildflowers, pond, dewberries, pine trees, views, butterflies, .....on & on! Thanks for all your hospitality. This was a great place for our honeymoon. I'd recommend it to anyone. Heaven on earth....it starts here.

Each year my 2 sons and the spirit of our eldest, who recently passed on 5/20/01, have spent Father's Day at a retreat away from our wives. Here, we relaxed, cooked steaks over your fire pit, toasted to our lost son with fine wine and smoked our annual cigar on your "Best Little Porch" & reminisced until the wee hours. Your nostalgic decor, apparent great sense of humor and uplifting environment were a perfect closure for our tragic past month. Thank you and bless you. - William O. Ash, Colonel USAF Ret.

Your website is awesome but the cabin is paradise! This is truly the "Best Little Cabin in Texas!" From the moment I saw your website, to my conversations and email with Terry and Dianne, to our great weakend here, we have yet to be disappointed! The quiet, comfort, and beauty of your cabin are well worth the price of admission! We will most certainly be back to enjoy what is unquestionally a great and unique place. - Robert & Heather Johnston

This Thanksgiving will always be a memorable one for me and my family due to the fact that we enjoyed it together in your woods and in your cabin. The cabin and the atmosphere you have created in it are great and made us feel comfortable immediately. The view, the trees, the trails and the wildlife made the environment a great calming escape from the usual city grind. Thanks. - Rob & Tracy Schreiner

What an idyllic way to spend St. Andrew's Day! We have had a most relaxing few days exploring the wilderness and enjoying your comfortable Texan cabin. We'll have some wonderful memories to take back to Scotland. - Audrey and Ian Gibb

The serenity and solitude is exactly what we needed. Thank you for providing such a place to get away. Your flexibility with time & scheduling is much appreciated. - Erin

The cabin is what we've been looking for-- we have searched for a wilderness cabin from Texas to Canada, the one is the "Best". Saw lots of birds -- we do not have the pileated woodpecker where we live. "Celebrating our 50th Anniversary."

Another anniversary at the cabin - life just couldn't get any sweeter! - John & Patricia

Thank you for building this cabin. We will return here to rejuvenate our souls and drink up nature. We are blessed to have found you as we have been craving to find this very thing. - Linda & Johnny

We always seem to mark our days by how long it is 'til our next visit. First we count the weeks, then the days, then the hours. Just 3 more weeks. - Lisa, Tip & Kayce

We loved it. Sat on the porch and read, grilled steaks, s'mores, stargazed. God willing we conceived our first child in Miss Edna's bed! - JM & SM

We are home, and we are already sad....the three brothers are calling each other like little teenage girls to talk about what a wonderful time we had! You two are amazing people, and we look forward to seeing you again soon...thanks for allowing the Brothers Waterbury to remember what it is like to turn off the TV and talk about things that matter! Our Mother looked down this week-end and gleemed, loving the fact that we were all together and having such a wonderful time. Thanks again for an amazing weekend and look for pictures to come. - Scott Waterbury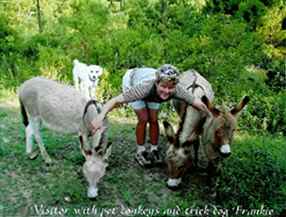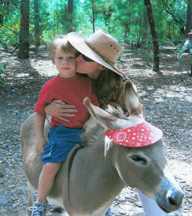 Guests enjoying our pet donkeys.
Rates and Information:
$170 per night for two people
$20 per night for each additional guest
Two Night Minimum Stay - Three Night Minimum on Holidays
Please no smoking in the cabin and take extreme caution outside because of continuous forest fire hazard.
Outside Pets Welcome


Warning! Staying at The Best Little
Cabin in Texas may be habit forming.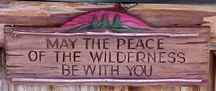 To make a reservation
or for more information:
Phone: 512-327-1248 - Dianne


Email: overthehill388@yahoo.com
---
Web Page by
Highland Lakes Web Pages