Caddo Lake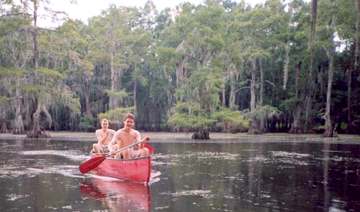 Caddo Lake (Lac Caddo in French) is a different type of lake than most of the Texas Lakes to the west. Caddo Lake is on the Texas/Louisiana border.
A first-time visitor to Caddo Lake said, "I have never had an experience like this on a Texas lake. It is so mysterious but beautiful. I understand why people want to come to this area and return many times."
Legend has it that the lake was formed by the 1811-12 New Madrid earthquakes. Caddo lake covers 225,400 acres of Cypress swamp and has an average depth of 8' 10" with the deepest water averaging about 20 feet. Caddo Lake offers many bayous, channels, waterways and sloughs which delight the fishermen. The state has marked 42 miles of "boat roads" to guide the sportsman through the maze of channels.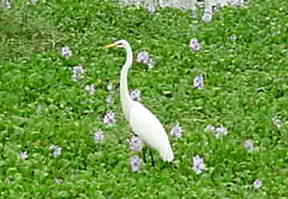 Caddo lake has an abundance of cypress trees, plant life, birds and wildlife. Birder watchers have discovered about 240 species of birds at Caddo Lake. Some of the wildlife includes: white-tailed deer, raccoons, beavers, minks, nutrias, squirrels, armadillos, frogs, turtles, snakes, alligators, and a large variety of waterfowl. The lake is a beautiful lake with its stately cypress trees, the interesting plant life, the many bayous and the variety of wildlife.
Since the Ivory-billed Woodpecker, thought to be extinct for many years, has been rediscovered in southeastern Arkansas, many people think that Caddo Lake is the perfect place to find this bird again. The Ivory-billed Woodpecker used to inhabit Caddo Lake in the earlier years. Eastern Texas could be the next great sighting! Only time will tell!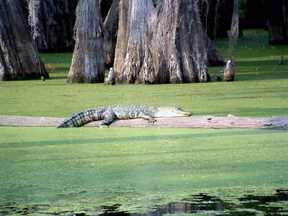 A rare alligator sighting
The Texas Bigfoot Research Center in nearby Jefferson says Caddo Lake is a land of Bigfoot. The "Caddo Critter" is said to have inhabited the scenic Caddo Lake area in the 1970's. So strong is the belief that Bigfoot inhabits this wilderness area that the Research Center stages an annual conference each autumn with multiple field trips into the backcountry scheduled every year.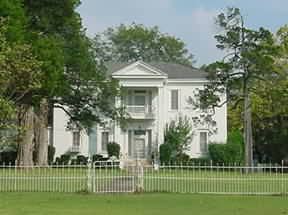 Lady Bird Johnson's Birthplace in Karnack

Mrs. Lyndon B. Johnson was raised in nearby Karnack, Texas near Caddo Lake and had many fond memories of the lake during her childhood. Her father, Thomas Jefferson Taylor, wanted to preserve the beautiful area and donated a large portion of land for the park at Caddo Lake.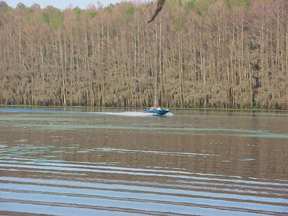 Boating on Caddo Lake:
There are public boat ramps for launching your boat and there are also a few privately owned marinas. You can rent canoes, Jon boats and other boats for boating and fishing on the lake. Because of the abundant plant life and swamp-like conditions, speed boating is not recommended.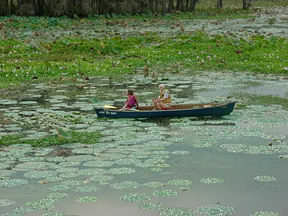 Fishing on Caddo Lake:
Caddo Lake is an anglers delight with 71 species of fish. Largemouth bass is probably the most popular sportfish at Caddo Lake with many trophy-size bass being caught. Caddo Lake also has good fishing for white bass, crappie and sunfish. Seasonal fishing is good for channel catfish, blue catfish and flathead catfish. A good sporting fish is the chain pickerel which is a smaller relative of the norther pike.
You can fish from the many fishing piers, from the shore, in a boat or go out with one of the local fishing guides. One fishing guide calls Caddo Lake "The Outback of Texas." Caddo Lake is a fisherman's paradise!
Caddo Lake State Park: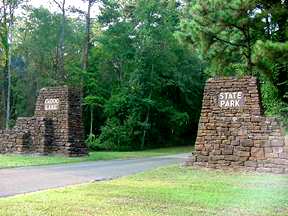 Photo compliments of Caddo Lake State Park

The Caddo Lake State Park and WMA consists of 8,129 acres in Harrison and Marion counties in Texas. The uplands are heavy with pine, hickory and oak trees while the lower areas have the beautiful cypress trees with their mossy beards, lilly pads and other plant life.
Activities in Caddo Lake State Park include:
Fishing
Boating
Hiking, biking and horseback riding on roads and trails
Wildlife viewing and photography
Birdwatching
picnicking
Hunting
Primitive overnight camping
Canoe and Jon boat rentals are available
Primitive camping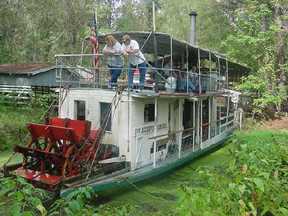 Graceful Ghost Paddlewheel Steamboat

Other Links for the Caddo Lake Area:
Caddo Lake Institute
Caddo Lake Birding
Caddo Lake State Park
.
Caddo Lake Map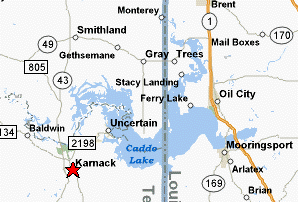 Vacation Rentals

Lake Houses, Cabins For Rent
and RV Spaces are needed.
Our viewers are looking for vacation rentals on Caddo Lake. If you have a vacation rental, we can bring you renters.
Planning on bringing your boat to the Highland Lakes?

Clean, Drain and Dry your boat to prevent the spread of zebra mussels and other invasive species.

For information on this Website

Copyright © Highland Lakes Web Pages, LLC