The Original Texas Tourist Guide - Since 1997
with over 60 Categories of Tourist Information
Celebrating Great Years!
Fredericksburg is one of the most popular tourist towns in the state of Texas. Fredericksburg has over 100 unusual shops featuring arts and crafts, antiques, gifts, clothing, jewelry, novelties, and more. You will find plenty of shopping in Fredericksburg, Texas. The main street of Fredericksburg is full of quaint shops and the side streets of Fredericksburg offer more of the interesting tourist shopping.
Lodging Near Fredericksburg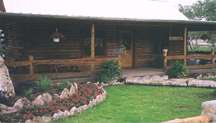 Rustic Ridge Bed and Breakfast - Canyon Lake

Enjoy a romantic getaway for two. This secluded cedar log cabin overlooks a pond into beautiful Texas sunsets. You will have the cabin with a gated entrance all to yourself. Close to Potters Creek Park on Canyon Lake.
Agarita Creek Farms
You will love these cabins only a short drive to tourist shopping in Fredericksburg. You have an opportunity to enjoy life on the farm and tourism, too, at these delightful log cabins. Walk the trails and enjoy the beauty and wildlife at the farm.
Walnut Canyon Cabins
7 secluded cabins with ideal breath-taking canyon and star views, set on 15+ acres, located close to Old Tunnel State Park. The cabins sit atop a ridge line with relaxing private decks, wildlife sightings, constant gentle breezes. Family & pet friendly, included are all the fixin's to make your own breakfast. Our hot tub is limited to two cabins.
The tourists love shopping on Main Street of Fredericksburg. Pick up some Fredericksburg fudge, stop at the German Bakery, look at the hand-made candles, try a Dulcimer, buy an antique or a gift for a friend back home. Have lunch in a German Restaurant. If you are a tourist shopper, you will love shopping in Fredericksburg, Texas.
Fredericksburg is a town famous for its bed and breakfast inns. They also have cabins for rent and motels in the area of Fredericksburg. Fredericksburg is one tourist town you will not want to miss in Texas.
One listing has Fredericksburg listed as the eleventh most popular tourist town in the entire United States. Come to see why Fredericksburg is so popular with tourists in Texas. You will love Fredericksburg!
For information on this Website