Lake Ray Roberts
(Ray Roberts Lake)
Lake Ray Roberts (formally Ray Roberts Lake) is a popular lake for fishing, boating, waterskiing and jet skiing. The lake has some nice, quiet coves that provide protection from the wind.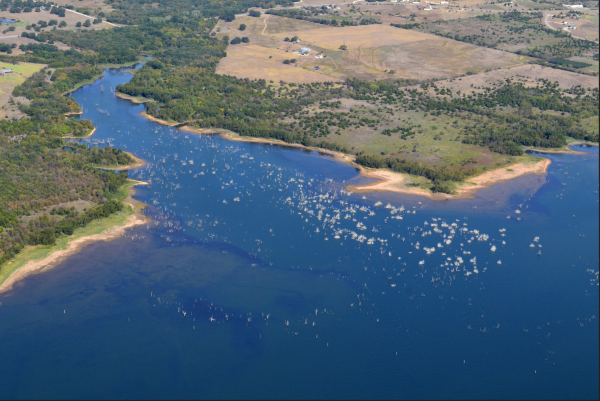 Those white specks are boats, not geese
Boating and fishing are the main activities on Lake Ray Roberts but there is also hunting available in the area. The most common fish caught at Lake Ray Roberts are largemouth bass, white bass, channel catfish, crappie, and sunfish. There are several Bass Tournaments on Lake Ray Roberts each year which draw a lot of fishermen.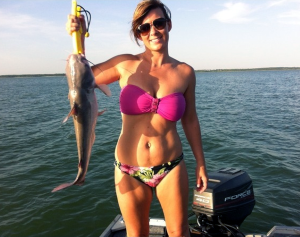 Lake Ray Roberts is a 25,600-acre reservoir located 10 miles north of Denton, Texas, between the cities of Pilot Point, Texas and Sanger, Texas and 30 miles north of Dallas/Ft. Worth. It is filled by a tributary of the Trinity River.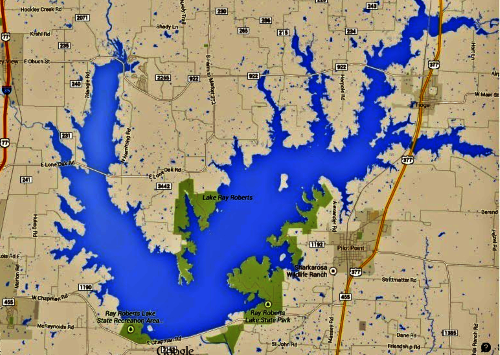 Lake Ray Roberts is approximately 23 miles long with 158 miles of shoreline The lake has an average depth of around 25 feet with the maximum depth being 106 feet. It has a surface area of 25,600 acres.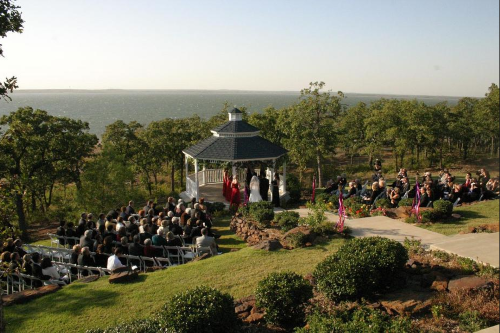 A wedding overlooking beautiful Lake Ray Roberts
Local residents enjoy the country atmosphere along with the nature and wildlife, and it is only a short drive to the city for their shopping and other needs. Golfing is good in the area and golfers can enjoy their hobby almost year round.
There are several small towns around Lake Ray Roberts including: Pilot Point, Tioga, Denison, Collinsville, Valley View, Sanger, Bolivar, Aubrey, and Krugerville. Visitors to the area have fun shopping in the local towns for antiques, gifts, clothing, jewelry and souvenirs. Several of the towns have historic monuments, buildings and other things you may want to photograph.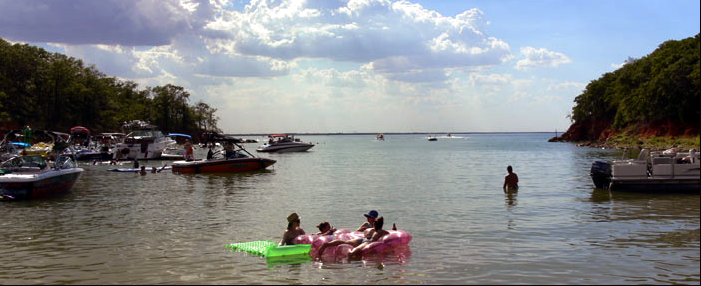 Just chillin' on the lake
Things to do in the area:
Boating, waterskiing and jet skiing
Fishing on the shore, in a boat or with a fishing guide
Swimming, wading and sunbathing
Golfing at the local golf courses
Shopping and dining in the local towns
Visiting museums and historic buildings and sites
Hiking, geocaching and biking along the lake
Camping or renting a cabin at the lake---Wikihow article on camping
Picnicking in the parks at the lake
Birdwatching and wildlife photography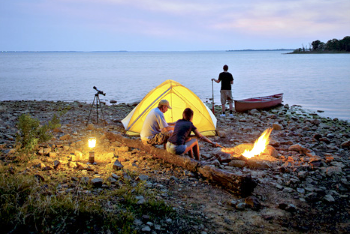 Camping on Lake Ray Roberts
Planning on bringing your boat to the Highland Lakes?

Clean, Drain and Dry your boat to prevent the spread of zebra mussels and other invasive species.

For information on this Website

Copyright © Highland Lakes Web Pages, LLC