Cabins For Rent - RV Spaces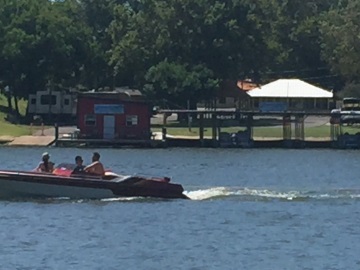 View of Llanorado Lodge from the water on Lake LBJ
Are you looking for a great vacation spot? Come to the Llanorado Lodge on beautiful Lake LBJ in Kingsland, Texas for a great get-away.

Llanorado Lodge is located on the shore of Lake LBJ where the Llano and Colorado Rivers meet to form Lake LBJ. We are next to the bridge on Ranch Road 1431 and have ideal fishing and boating from our location. We are only a 60 minute drive from Austin, 85 minutes north of San Antonio and about 3 1/2 to 4 hours from the Dallas/Ft. Worth area.

The owners, David and Gail Walden, have been busy making more improvements to Llanorado Lodge and updating the cabins to make your next vacation to the resort even more pleasant.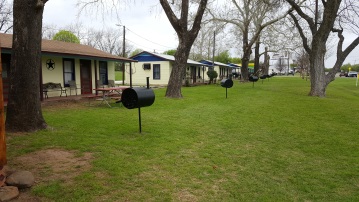 Clean, Comfortable Cabins For Rent
All of the cabins have been updated and are kept in immaculate condition. Each cabin offers: air conditioning, color TV with cable, picnic table, charcoal BBQ grill, kitchen with refrigerator, microwave, stove, coffee makers, toasters, pots and pans, dishes, and utensils. All towels and linens are furnished for cabin use only. Please bring your own beach towels. You will have your own reserved parking space on a paved lot at your cabin.

Whether you're hunting, fishing, or just plain relaxing, our clean, comfortable cabins are a great place to stay. Our cabins were designed with your enjoyment and comfort in mind.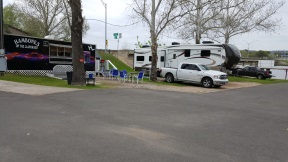 RV Spaces with 4-Way Hookups
and Lake Views
The RV spaces include 4-way hookups: water, sewer, electricity and cable TV. Each RV space has its own concrete patio. Sorry, BBQ grills are not provided for RV spaces.

You will enjoy the grassy grounds with several large trees, and picnic benches which provide areas for great picnics. Lake LBJ offers fun in the sun and water activities for the individual or the entire family.


RV Information and Pricing:

Daily rate is $45.00 per day for up to four people, which includes electricity, water, cable and sewer. Additional guests are $3.00 each per day.
Monthly rate is $425 to $475.00 for up to four people, which includes water, cable and sewer. You will be responsible for the electric.
Stay 6 nights and get the 7th night Free - year round.
We offer 30 Amp and 50 Amp service.
Please call for availability.
All additional guests will need to check in with office.


Boat slips for your boat

Store your boat during your visit in our boat slips for $20 per day or $195 per month. We also have two pontoon slips. Don't have a boat? Boats can be rented from several locations near by. Water access to gasoline is only about 200 yards away.

We have a bait shop, and fishing guide services are available.


Enclosed, Heated Fishing House

Our waterfront amenities include a large enclosed two-hole fish house which has a wood burning stove (wood provided), and several seats. The crappie holes and docks are well lit to attract fish. This provides for comfortable 24 hour fishing year-round. Our docks and fish house are for the enjoyment of our registered guests only.

Catch the "big one" or catch some rays and peaceful scenery from the deck of the fish house. This is a good place to watch the sun rise, watch the boats go by and let your cares drift away.

Our live bait and tackle shop is open to the public.

Lake LBJ is a "constant level" lake which is ideal for all types of water recreation. It is very seldom too crowded to accommodate all who come to enjoy. Whether you come for the water, the scenery, or the relaxation, Lake LBJ and the Llanorado Lodge is a great place to spend your time.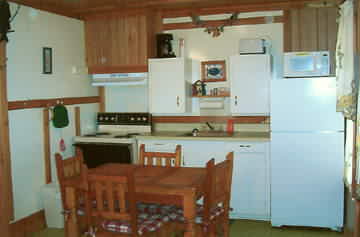 Cabins 1 and 2 have 2 queen beds,
a full kitchen and bathroom with a shower.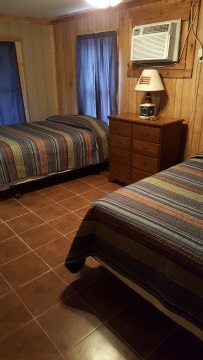 Cabins 3 and 4 have 2 queen beds, a full kitchen
and bathroom with a shower.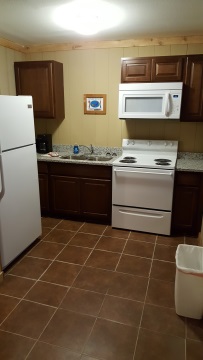 Cabin 5 has two rooms
and sleeps up to 8 people.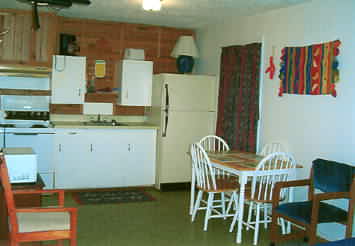 Cabin 7 has a larger
kitchen than Cabins 1- 4.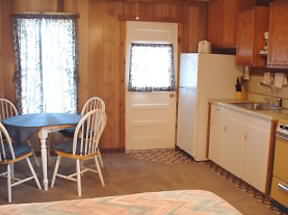 Cabin 8 is a smaller cozy room, comfy,
plush and sleeps two people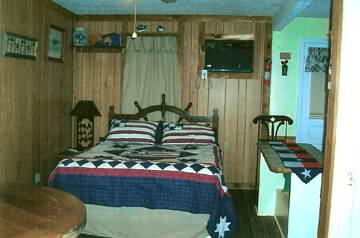 Cabin 9 has a queen bed and sleeps two people

The Rates Below are for up to 2 People
The rates below are for up to two people except for Cabin 5 which is for up to 4 people. There is a charge of $20.00 per additional person per night in the summer ($7 per night in the winter season). Two night minimum stay on weekends, 3 nights on most holidays. There is a $5 each day guest charge for your visitors. All cabins are non-smoking cabins. Children under the age of 3 stay free.
Cabin Description and Rates:
Summer
Per Night
Summer
Weekly
Winter
Per Night
Winter
Weekly
CABINS 1 and 2
These 2 cabins each consist of one large room with 2 queen beds, full kitchen, and bathroom with a shower. These cabins comfortably sleep up to four persons. Maximum of 4 adults and 2 small children per cabin.
$125
$805
$110
$600
CABINS 3 and 4
These cabins have 2 queen beds, a full kitchen and bathroom with a shower.
$115
$805
$105
$600
CABIN 5
This cabin consists of 2 rooms. There are a total of 2 queen beds and 2 double beds, 2 bathrooms, and a full kitchen. This cabin comfortably sleeps up to 8 people. The maximum is 8 adults and 2 small children. This cabin has a 2 night minimum year-round (3 nights on Holidays).
$195
$1300
$165
$995
CABIN 7
This cabin has a queen bed and a double bed, a larger kitchen, and bathroom with shower. This cabin comfortably sleeps up to four persons. The maximum is 5 adults and one small child.
$125
$950
$110
$650
CABIN 8
This is a smaller cabin. It has 2 queen beds. It has a bathroom with shower. The kitchen area is smaller than the other rooms. It is cozy, and more plush. This cabin comfortably sleeps a maximum of 4 adults.
$115
$805
$105
$600
CABIN 9
This cabin has one queen bed, larger bathroom and shower, a bar instead of table and has a cozy country atmosphere. This cabin comfortably sleeps a maximum of 2 adults. It has a small BBQ pit in front.
$105
$735
$95
$580

The rates above are for up to two people.
This is a nice location for families.

Summer rates are effective from March 1 thru September 30.
Winter rates are effective from October 1 thru February 28/29.
Cabins can be reserved 1 year in advance with prices quoted at the time of reservation.

Area Attractions include:

Lake LBJ is ideal for boating, skiing, swimming, and fishing.
8 Area golf courses
LBJ State Park / Inks Lake State Park
Longhorn Caverns tours
Enchanted Rock State Park
The chain of 7 Highland Lakes & dams
The Kingsland Archaeological Center and digs
The bluebonnets and other spring flowers
Festivals and craft shows at the local towns
Several local wineries for winery tours and wine tasting
Vanishing Texas River Cruise
Fishing Guide Service
Lake LBJ Tours
President Johnson's boyhood home in Johnson City
Great country style meals in the local cafes.


For Local Events in the Highland Lakes Area - Click Here

Additional Information:

Check in time is after 2 PM. Check out time is 11 AM.
We accept cash, checks, Visa, Discover Card, American Express and MasterCard.
One night deposit on all cabins are required to guarantee a room.
Please call about our pet policy.
We welcome Winter Texans
2 Night minimum stay in the summer.
3 Night minimum stay on holidays

Cancellation Policy:
A service fee of 25% will be charged on all cancellations that are received two (2) weeks outside of the arrival date. If cancellation is within the two (2) weeks arrival, the deposit is forfeited.
.
David and Gail Walden want to welcome you to their piece of paradise on Lake LBJ. Come out and stay a while. Relax and enjoy the lake and the beautiful scenery. We want to make your stay so pleasant and peaceful that you will make a habit of visiting us at Llanorado Lodge as many of our customers do. We look forward to assisting you with your vacation, or becoming your weekend "get-away"




For Reservations or More Information

325-388-4823 Phone


billyalan1968@gmail.com E-mail


Manager: Billy Walden 830-220-2434


223 Ranch Road 1431
Kingsland, TX 78639
---
Highland Lakes Home Page
Touring Texas