Lake Sam Rayburn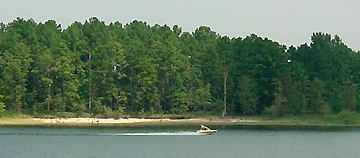 Lake Sam Rayburn is a very popular fishing and boating lake located in east Texas about halfway between Beaumont and Longview, about 70 miles from each city, and 11 miles northwet of Jasper.
Lake Sam Rayburn is approximately 79 miles long and is the largest reservoir completely in the state of Texas. Toledo Bend Lake the only larger lake in Texas than San Rayburn Lake but the eastern shore is in Louisiana.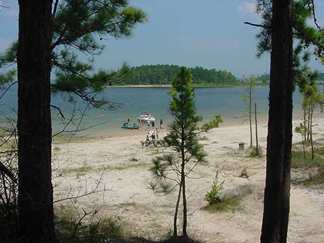 With 600 miles of shoreline, you will find many areas around Lake Sam Rayburn to have a picnic, launch your boat, do some fishing and enjoy the lake. You can find all types of lodging in the area including: cabin rentals, lake house rentals, condo rentals, bed and breakfast inns, motels and RV parks.
Other things to do in the area other than boating, waterskiing, wakeboarding, swimming, fishing, and camping, are birdwatching, nature hiking, historic tours of the local towns and scenic drives around the lake.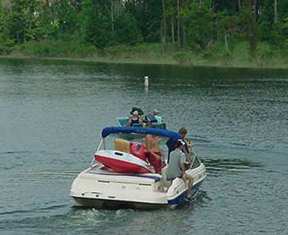 Want to do some fishing?
Texas Parks and wildlife rates the fishing excellent year-round for largemouth bass, crappie and catfish on Lake Sam Rayburn.
White bass is limited but offers fairly good fishing in the spring. The hybrid striped bass is also a popular fish on Lake Sam Rayburn. There is also good fishing for blugill and redear which are present in abundance.
Towns in the area of Lake Sam Rayburn include: Redland, Lufkin, Huntington and Zavalla on the west side of the lake; and Woden, Etoile, Chireno, Denning, Augustine, Macune, Broaddus, Roseville, Bronson, Pineland, Brookeland and Browndell on the east side of the lake. Jasper is just a few miles southeast of Lake Sam Rayburn.
Visitors to the area enjoy dining at the local restaurants in the towns and shopping for antiques, gifts, and clothing, etc. They also enjoy the festivals and arts and craft shows at the towns.
Toledo Bend Lake and Sam Rayburn Lake
What our clients say ... "Sitting here on the "big water" as they say, I want to I just want to again say "thank you" for all you did to find us our dream home." ~ Rusty Bailes
Vacation Rentals
Lake Houses, Cabins For Rent
and RV Spaces are needed.
Our viewers are looking for vacation rentals on Lake Palestine. If you have aacation rental, we can bring you renters.
Planning on bringing your boat to the Highland Lakes?

Clean, Drain and Dry your boat to prevent the spread of zebra mussels and other invasive species.

For information on this Website

Copyright © Highland Lakes Web Pages, LLC