Lake LBJ Tourist Guide and Visitors Guide for boating, fishing,
Lake LBJ cabins, RV parks, resorts, Lake LBJ real estate.


In the Highland Lakes and Texas Hill Country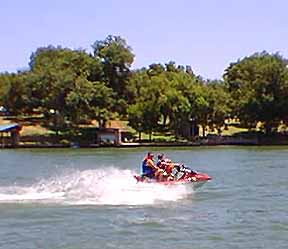 Water sports are very popular on Lake LBJ.
Lake LBJ, named after President Lyndon B. Johnson, is part of the Highland Lakes chain of seven lakes starting in Austin and going northwest for over 85 miles. Lake LBJ starts near Horseshoe Bay, 45 miles from Austin, and goes all of the way to Kingsland.


Sailing on Lake LBJ

Lake LBJ is normally a constant level lake and is just over 21 miles long with a maximum width of 10,800 feet. Lake LBJ is perfect for sailing, boating and all water related activities.


Relaxing by Lake LBJ

Lake LBJ is a popular lake for boating and water skiing. Tourists are attracted from all over Texas and the U.S. to take advantage of this big beautiful lake. Many people in Austin, Houston, San Antonio and Dallas own weekend lake homes on the lake. Many of these people also retire in the area.

The shores of the lake are dotted with nice homes with boat houses and automatic boat lifts. There are several communities along the lake: Kingsland, Highland Haven, Granite Shoals, Sunrise Beach, Deer Haven, Blue Lake and Horseshoe Bay. Lake LBJ is a great retirement area as well as a recreational area. This area has been rated in the top three areas of the U.S. for retirement.

Lake LBJ is a great place to rent a cabin, condo, motel or park your RV. All are open year round. RV Parks located on the waterfront of Lake LBJ in Kingsland, allow you to enjoy watching all of the boating activity on the lake. The sunsets are absolutely beautiful over the lake. There are also vacation rental homes along the lake.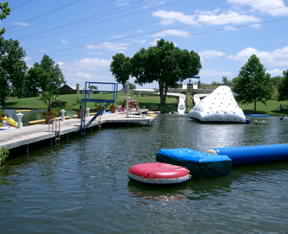 Kids love the Water Park at the
Lake LBJ Yacht Club and Marina
.
More lake and fishing information from Texas Parks and Wildlife.


The lake is perfect for boating
and is not overcrowded.

Planning on bringing your boat to the Highland Lakes?
Clean, Drain and Dry your boat to prevent the spread of zebra mussels and other invasive species.

Services Available at Lake LBJ:




Blue Cove Lake House
Waterfront lake house for rent nightly on Lake LBJ.




Sunset Point on Lake LBJ
RV Spaces on Lake LBJ just west of Marble Falls, TX.



Lake LBJ Resort, Marina & Country Club
Waterfront resort with rental suites, boat rentals, marina, store, fuel on the water, and more on Lake LBJ in Sunrise Beach, TX.