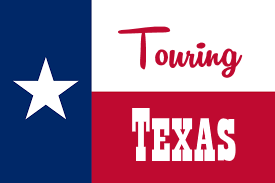 The Original Texas Tourist Guide - Since 1997 with over 60
Categories of Tourist Information. Celebrating Great Years!
Horseshoe Bay Attractions You Don't Want to Miss

Consider this your go-to guide for all the best things to do in Horseshoe Bay. This resort area nestled in the heart of the Hill Country is a popular getaway for visitors near and far.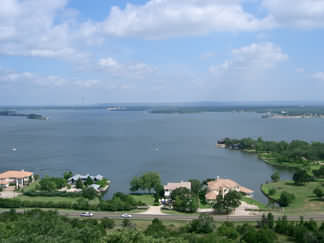 Horseshoe Bay is also a part of the Highland Lakes. The resort town is located on Lake LBJ, which stays at a near constant level year round. The location offers some of the best water activities and lake views in the area. You'll find plenty to do on shore in Horseshoe Bay as well.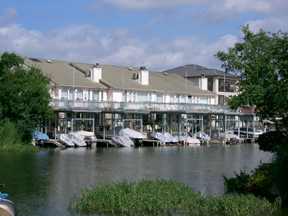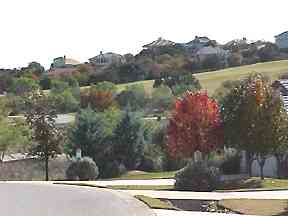 If you were to look at a map of Horseshoe Bay, you'd see why it's a popular retreat for Austin and San Antonio locals. Horseshoe Bay is located on Hwy 2147 about 6 miles from Marble Falls and a short 45-mile drive from Austin.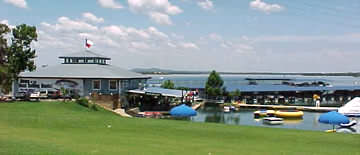 Lake LBJ Marina & Yacht Club East of Horseshoe Bay

What Are You Waiting For?
Come Experience the Best of Texas in Horseshoe Bay
Top Things to do in Horseshoe Bay
Horseshoe Bay tourist attractions are all about enjoying the beautiful scenery surrounding the water. It's a naturally relaxing atmosphere where you can kick back, but you can also up the adrenaline with more extreme activities.
GOLFING
Three of the top-rated Robert Trent Jones golf courses in the U.S. are located in the Horseshoe Bay area. Features include a full-service country club, pro shops, tennis courts, recreation center, yacht club and a putting course.
FISHING
Horseshoe Bay is home to one of the largest marinas in Texas. You can bring your own boat, rent one or hire a charter boat for a day of fishing out on Lake LBJ. Largemouth bass, white bass, crappie and catfish are all abundant.
DRAG BOAT RACING
One of the biggest events in the area is the annual LakeFest Drag Boat Races. For two days some of the fastest boats on the water compete to see who can go the distance in the shortest amount of time.
ZIP LINING
Feel the thrill off seeing the Hill Country from up above on a zip lining tour. Cypress Valley Canopy Tours has set up a series of zip lines and sky bridges that give you a bird's eye view.
ROCK CLIMBING
The Texas Hill Country is a rocking climbing paradise. Experienced climbers can head out on their own, or you can take part in an organized excursion with Rock-About Climbing Adventures in Marble Falls.
Horseshoe Bay Real Estate Services
There are approximately 2,500 full-time residents that are lucky enough to call Horseshoe Bay home. The residences include lakefront properties, vacation homes, garden homes and townhomes that are all within close distance of the best Horseshoe Bay, Texas points of interest.
If you're looking for a great place to retire or want an affordable vacation home, this is the place to look. Check out the resources below for more information on real estate prices and general facts about Horseshoe Bay.
Giles Summerlin with RE/MAX of Marble Falls specializes in Lake LBJ Real Estate and Texas Hill Country Lake Living.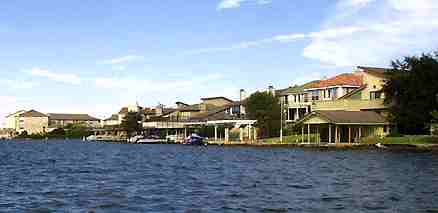 Waterfront Homes on Lake LBJ in Horseshoe Bay, Texas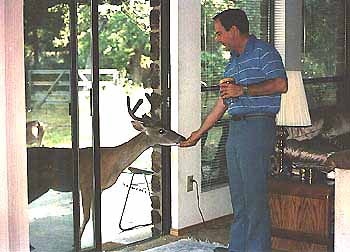 Starbuck getting a handout of corn in Horseshoe Bay West. He was the most popular deer in the neighborhood.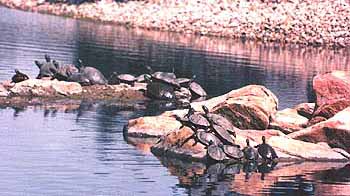 Near the entrance to Horseshoe Bay West is a low water crossing at the creek. This is a view of the creek with turtles sunning themselves on the rocks.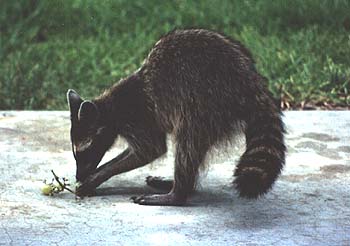 If you feed them, they will come. Missy, a local raccoon, was a regular visitor to one of the homes in Horseshoe Bay West. She brought her two children to dinner each night.
Events in the Highland Lakes Area
Staying and Playing in Horseshoe Bay Has Never Been Easier!
Useful Information

For information on this Website

Copyright © Highland Lakes Web Pages, LLC