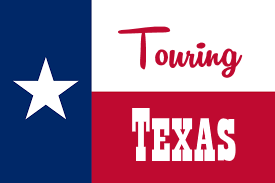 The Original Texas Tourist Guide - Since 1997 with over 60
Categories of Tourist Information. Celebrating Great Years!
Camp Wood
Swimming, fishing, kayaking, canoeing, floating down the Nueces River, camping, and hiking are favorite activities to be enjoyed by family and friends in the Camp Wood area.
The beautiful, crystal clear water of the Nueces River is enjoyed by all! It is spring-fed and the waters flow through the limestone bluffs of the Edwards Plateau as the river winds its way downstream all the way to the Gulf of Mexico. Some say it is the "Mother River of the Hill Country" since it feeds the Frio and Sabinal Rivers.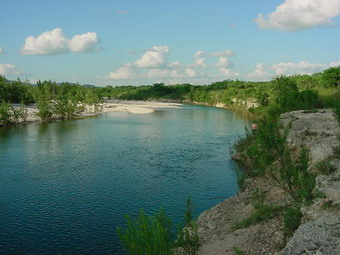 Camp Wood is in Real County in the western part of the beautiful Texas Hill Country. Camp Wood is located on the Nueces River at the intersection of Farm Road 337 and Texas Highway 55. FM 337 between Camp Wood through Leakey, and Vanderpool to Medina has been called "One of the fifteen most scenic spots in Texas" by Texas Highways, November 1998.
Camp Wood received its name from the United States military outpost Camp Wood. The post was maintained there from 1857 to 1861. The Camp Wood town site officially was begun in 1920 by Uvalde Cedar Company workers who were moving cedar logs down the new Uvalde and Northern Railroad.
Barksdale, 4 miles to the north, is the entry point to head into Nueces Canyon. A ranch near there has a variety of exotic animals.
Camp Wood Area Tourist Attractions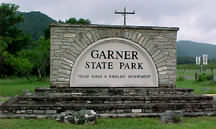 Garner State Park
This park has 1,419.8 acres of recreational facilities in northern Uvalde County. There are 10 water acres along the Frio River.
Lost Maples State Natural Area
This area has 2,174.2 scenic acres in Bandera and Real Counties, located north of Vanderpool on the Sabinal River. Lost Maples has about 200,000 visitors on an annual basis.
Devil's Sinkhole State Natural Area
- 6 miles NE of Rocksprings
See this unique collapsed cavern. Tours are available to the public.
The Real County Historical Museum
- Leakey
Wildlife Art Museum - Leakey
Lone Star Motorcyle Museum
- near Vanderpool
A collection of motorcycles dating from 1910's to the 80's.
Sunset Bat Flights
- Concan
For a once in a lifetime experience you will want to come to the Frio Bat Flight Tour and witness this awesome site as 10 to 12 million Mexican Free-tailed Bats ascend into the evening sky before sunset at Frio Cave near Concan, Texas
John Nance Garner Museum
- Uvalde
President Franklin Roosevelt's first Vice President.
Sabinal Canyon Museum - Utopia
Pioneer farm implements and household items, geological and Indian artifact exhibits.
Scenic Drive - Hill Country Trail
Explore the Sabinal River Canyon along RR 187.
Things to do in the Camp Wood area
Miles of river offer swimming, and sunbathing.
Take guided river and lake fly-fishing trips.
Take a guided hunting expedition.
Motorcycling through the Texas Hill Country is a big deal! Texas Highway 337 is one of the most popular and challenging roadways with winding roads and spectacular views.
Nature watching and photography is at its finest at the nearby State Natural Areas.
Fishing in the Nueces River.
Visit Lake Nueces Park.
Shopping at the antique and tourist stores in the area is some of the best in Texas.
Attend Rodeos in the summer.
Dining at the river front and downtown restaurants.
Visit Art Galleries and Museums.
Enjoy the spectacular views and enjoy stargazing at night.
Hiking and biking are popular in the area.
Visit other local towns such as Brackettville, Concan, Leakey, Rock Springs, Vanderpool, Utopia, and Uvalde which are only a short driving distance from Camp Wood.
San Antonio is about 2 hours driving time to the East and Mexico is about one and 1/2 hours to the south.

Planning on bringing your boat to the Highland Lakes?




Clean, Drain and Dry your boat to prevent the spread of zebra mussels and other invasive species.





For information on this Website


Copyright © Highland Lakes Web Pages, LLC